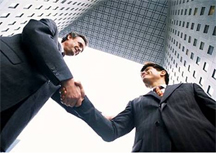 You thought buying a franchise tried your patience. Selling a franchise is the other side of that business equation, and it comes with its own set of unique variables. The more you know about what it takes to sell your franchise, the better prepared you'll be to deal with those variables, and the greater your chances of a successful transaction will be.
Corporate Control
Unlike with the sale of a sole proprietorship, franchises are carefully controlled by the franchisor, usually a corporate entity that has a vested interest in who is owning and operating their units. When their reputation is on the line, franchisors are highly motivated to make sure prospective owners match their corporate values.
Reviewing the Agreement
A good place to start when formulating sales strategies is with a careful review of your franchise agreement. Quite often, you'll find specific details in the sales contract, such as conditions and restrictions on the sale of your franchise to anyone other than the franchisor. Be well read, and you'll be well informed.
For example, you may discover in the original purchase agreement that the franchisor has first right of refusal, meaning you're obligated to offer the franchise back to the franchisor before another buyer may be considered. It's also quite common for the franchisor to exercise their right to approve or refuse potential buyers.
Once you and the franchisor do agree on a suitable buyer, you can expect the franchisor to levy a hefty transfer fee, which can run into the thousands. Franchisors will also often expect the seller to pay for the mandatory training of the new owner. This is another fact that may come as a surprise, but quite often is covered in the original franchise agreement. Whether these additional fees are paid by the buyer or the seller is inconsequential; either scenario may constitute a deal breaker.
Sizing up the Competition
Of course, if all goes well and the franchisor does permit you to find a prospective buyer, keep in mind that you are now competing directly with your franchisor who is strictly in the business of selling franchises. While you might think that the franchisor could be an ally in your attempt to make a persuasive sales pitch to the new owner, the franchisor might view your prospect as a prime candidate for one of their newly opened locations.
Finally, it's important to understand that the perceived costs, restrictions, and conditions of buying a franchise may dissuade some buyers from even considering it as a purchase option. Entrepreneurs, for instance, may feel their creativity could be stifled by rules set down by the franchisor. As a result, the potential buyer's market may be reduced.
Preparing to sell your business requires a shift in perception of the market. This is particularly true when you are selling a franchise. Sunbelt Atlanta offers a range of tools that will not only point you in the right direction, but will also help you sharpen this new focus. Perform your due diligence. Study your original franchise agreement, and be ready to compete with well-funded corporations. Being prepared is certainly a great way of improving your chances of success.