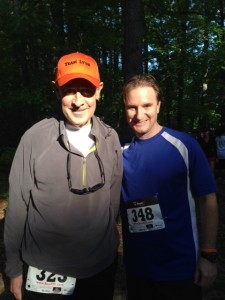 Just several months after undergoing a single lung transplant, David Lyon, one of the talented brokers at Sunbelt Atlanta, not only returned to work, but also participated in 5K and 10K road races. The entire Sunbelt Atlanta team is proud of him, and thinks he personifies the excellence we strive for every day.
Once he discovered that he needed a lung transplant, David was faced with two options: to remain on an oxygen tank for the rest of his life or to be placed on the organ transplant waiting list. With no guarantee of being selected to receive a lung transplant, David opted for the chance of getting better that a transplant offered him.
After multiple tests, David was selected to receive a single lung transplant. The same night he underwent his surgery, another patient from Augusta, GA received the donor's other lung. Today, both men often see each other on the way to doctor visits. David says he is grateful that "one donor saved two lives." He is passionate about raising awareness for organ donors and teaching more individuals about the importance of registering to be organ donors.
A few short months after his single lung transplant, Mr. Lyon participated in a 5K to raise awareness for organ donors, and soon after ran the Peachtree Road Race. His doctor, David Neujahr, has continued to encourage David to work hard to stay well and improve. And so he did. Today, David is back to work at Sunbelt after only four months away. Sunbelt is grateful to have such an inspirational member of the team. Congratulations on your many accomplishments David, and for raising awareness on registering to be an organ donor!
Did you know that every 10 minutes another name is added to the organ transplant waiting list? If you're not currently registered as an organ donor, you should do so as soon as possible. It doesn't cost a thing. And, you never know when a friend or loved one may encounter a similar situation and need a life-saving transplant. Just imagine how many lives you can save by doing so.
To find out more information on how you can become an organ donor or to register, visit Donate Life Georgia today.